This wasn't the sexiest draft by the Steelers, but when you're this close to the Super Bowl your primary goal is to simply fill your needs. The Steelers did exactly that, and with some solid contributions from their rookies they'll be back on top in 2011.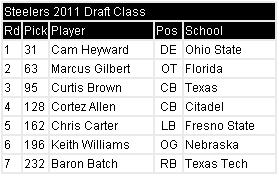 The selection of Cameron Heyward wasn't as much about need as it was about value, and about planning for the future. No team is better an filling holes before they open up than the Steelers. Heyward will play a backup role in 2011 but will step in to a starting role for the aging Aaron Smith or Brett Keisel sooner rather than later.
I'm not a huge fan of Marcus Gilbert, but I do think he's a great fit for the Steelers. He could play right tackle or right guard in the pros, and will likely be starting at one of those two positions by 2012 at the latest.
Curtis Brown is another player that didn't necessarily have great value, but fills an immediate need for the Steelers. Both he and Cortez Allen will compete for playing time immediately and one of them could end up winning a starting job opposite Bryant McFadden.
The Steelers got back to the value picks with Chris Carter in the 5th round. He was one of the most underrated players in the draft in my opinion and should be able to make a smooth transition from end to linebacker in Pittsburgh's 3-4 defense.
It's rare that a 6th round pick comes to camp with a legitimate shot at winning a starting job, but Keith Williams is definitely in the mix for the right guard position. The Steelers definitely need an upgrade there and, while Williams may be the dark horse, it would be foolish to rule him out.
The only confusing pick of the draft for the Steelers was Baron Batch in the 7th round. His experience as a receiver out of the backfield could be valuable, but if that was a priority for the Steelers they should have filled that need earlier. There were much better players on the board, even in the 7th round.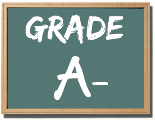 Overall this was another great draft for a franchise that continues to reload ever year. They may not have added any immediate starters, but the depth they added will be crucial to making another deep run in the playoffs. And in two or three years we should see at least three players from this class in the starting lineup.
About the author