The Cleveland Browns made some nice picks and dramatically improved their depleted roster, but the best move of the entire draft was their trade with the Falcons. The Browns acquired two 1st-round picks (2011, 2012) a 2nd-round pick (2011), and two 4th-round picks (2011, 2012)… all for a 22-year-old receiver who has yet to set foot on an NFL field. It was truly the steal of the draft.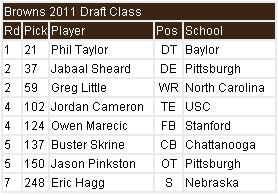 Phil Taylor, whom the Browns selected after trading back up again in the 1st round, fills a gaping hole on their defensive line. Some have criticized the pick because Taylor was expected to play nose tackle in a 3-4 scheme – but since when can big men only play in the 3-4? Taylor is a similar talent to Shaun Rogers, who excelled in a 4-3 defense while in Detroit (when motivated). The only downside to the selection of Taylor is that, like Rogers, he comes with some baggage. However, if the Browns can keep him motivated and out of trouble, he will be a star.
Jabaal Sheard is another perfect fit for the Browns defense, especially considering they didn't have a single true 4-3 defensive end on the roster prior to the draft. Sheard will start immediately, even if it's only by default.
Greg Little is a risky 2nd round pick and I'm a little confused by the decision. He clearly has upside, but the Browns needed a receiver to contribute immediately. In three years Little could be Colt McCoy's No. 1 target, but it's unlikely that he'll jump Brian Robiskie and Mohamed Massaquoi on the depth chart in year one.
I love the selection of Jordan Cameron in the 4th round. He's a tight end/wide receiver hybrid and will only continue to get better as he gains experience. There are few tight ends in the league with his size and athleticism. His impact may be minimal early, but he's in a great position to learn behind Ben Watson and Evan Moore.
The selection of Owen Marecic is a little confusing since they could have simply re-signed Lawrence Vickers, one of the most well-respected run blocking fullbacks in the game. This pick, however, likely signals the end of the Vickers era and Marecic should immediately step into a starting role. You can forget about him playing both ways though – it's not going to happen in the NFL.
Buster Skrine is a great 5th-round pick. His lack of size limits his upside, but he has the elite speed to stay with any receiver. The Browns likely had division rival Mike Wallace in mind when making this selection; Skrine should be a perfect matchup for those smaller deep threats.
Jason Pinkston was the top rated player on my board when the Browns grabbed him in the 5th round. I gave him an early 3rd-round grade and I believe he has the skills necessary to compete for a starting job at right tackle in Cleveland. He's not much of an athlete and his upside may be limited, but there's no reason he can't beat out Tony Pashos for the job.
Eric Hagg isn't anything special, but he should be able to find a spot on the roster due to the Browns lack of depth at safety. He could be an upgrade over Sabby Piscitelli as the backup strong safety.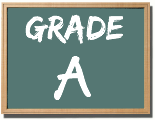 As a whole, this was a great draft for the Browns – the second straight class that has them pointed in the right direction. They landed at least three starters (Taylor, Sheard, Marecic) and possibly two others (Little and Pinkston). And on top of all that, they now own two 1st-round picks in 2012. You can't do much better than that.
About the author