It wasn't exactly a Ricky Williams-like trade, but what the Falcons gave up for Julio Jones comes about as close we've seen since that blockbuster in 1999. GM Thomas Dmitroff took a major risk – and in my opinion a bad one – by giving up two 1st-round picks (2011, 2012), a 2nd-round pick (2011) and two 4th-round picks (2011, 2012). That's an awful lot to give up for a rookie receiver, especially when you consider it would have taken a lot less to land a proven receiver like Vincent Jackson.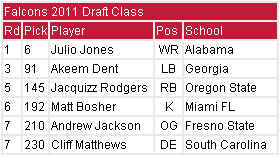 While I disagree with the trade, there's no denying the fact that Jones is a great fit for the Falcons. He gives Matt Ryan another weapon to work with, teaming with Roddy White and Michael Jenkins to give the Falcons three capable receivers over 6″ tall. Few teams have the depth in the secondary to compete with that.
Akeem Dent was a slight reach in the 3rd round. He is coming off a breakout senior year and really excelled in Georgia's 3-4 defense, but in Atlanta he'll transition back to the 4-3 where he failed to make an impact early in his career. He is likely nothing more than a backup at the next level.
I absolutely love Jacquizz Rodgers in the 5th round. He may not have the measurables of an elite running back, but all he did was produce at Oregon State. He'll likely never rush for a 1,000 yards, but his versatility as a runner and receiver gives offensive coordinator Mike Mularkey a dangerous weapon to incorporate into the game plan. He could be one of the real surprise rookie performers in 2011.
I'm not a huge fan of taking kickers in the draft and I'm especially not a fan of reaching for one. Matt Bosher is just an ordinary kicker. He's fairly accurate on field goals, but doesn't have a particularly strong leg. There are probably 5-10 players out there with similar skills who are readily available every offseason.
I like the selection of Andrew Jackson. While the offensive line has been good the past few years, depth is lacking. They're an injury away from having some serious issues and hopefully Jackson eases that concern.
Cliff Matthews could be a steal in the 7th round. His skill set compares favorably to John Abraham, and the Falcons undoubtedly hope he can reach his full potential by learning from the veteran.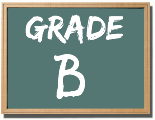 This draft could push the Falcons over the top if Jones and Rodgers elevate their offense to a truly elite level. However, the success of the draft really rides on Jones. Considering what they gave up, anything short of a perennial Pro Bowl career would have to be considered a disappointment.
About the author