If the Bengals had a GM I'd say this was a make-or-break draft for him. Instead, it's just another risky draft by Mike Brown and if it fails, well, what else is new. The Bengals took a lot of risks, but I give them credit for finally admitting the Palmer/Ochocinco era needs to end and moving on without them.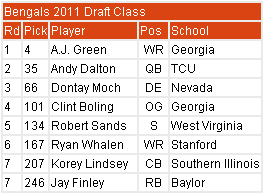 I like A.J. Green, but bringing in a highly touted rookie receiver without a proven quarterback is always risky. There's no denying his raw talent, but this is a boom-or-bust situation for the Bengals. In their situation, I probably would have played it safe and selected Patrick Peterson.
I like Andy Dalton, and gave him a late 2nd-round grade, but I'm not sure I would want to bank on him as my franchise quarterback. He definitely has the ability to start in this league, but I think his ceiling is as a Trent Dilfer/Jeff Hostetler type quarterback. He's the type of guy you won't be embarrassed to start, but not someone you want to build around either. That said, he isn't necessarily a bad option here. Palmer isn't coming back and it's not going to be easy to convince a quality free agent to come to Cincinnati. In the short term, he may be their best option and fortunately he comes at a relatively cheap price in the 2nd round.
I thought Dontay Moch would end up in Oakland, but Cincinnati was definitely the next most likely landing spot for him. Like Al Davis, Mike Brown loves taking chances on elite athletes without a true position (see: Michael Johnson). It will be interesting to see how they use him – either as an end or strong-side linebacker. He isn't a great fit for either in a 4-3 defense.
Clint Boling is a great 4th-round pick. He probably won't be able to crack the starting lineup as a rookie, but he has the ability to be Bobbie Williams' eventual replacement at right guard.
Robert Sands fits into the same category as Moch – a freak athlete who may not have a position in the NFL. At 6'4″ he has rare size for a safety, but it's a position where height can be a disadvantage. He does fill a need in Cincinnati, however, and may be given an opportunity to win the starting free safety job over Chris Crocker.
I love the selection of Ryan Whalen in the 6th round. His upside is limited because of his lack of speed and athleticism, but he's a reliable receiver who could become a favorite target of Dalton's if he's given playing time early in his career.
Korey Lindsey had good value in the 7th round, but he's going to have a hard time finding playing time in Cincinnati. They are extremely deep at cornerback and Lindsey may struggle to make the final cut.
Jay Finley's tenure in Cincinnati may be short as well. He'll have an opportunity to earn a backup role, but if Cedric Benson re-signs the backfield will be crowded.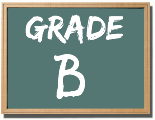 As a whole, this really was a boom-or-bust draft for the Bengals. As a result I can't give them extremely high or low marks at this time. Three years from now we could look at this draft as a turning point for the franchise. Or it could be just another draft filled with high-profile busts.
About the author