Few GMs have ever mastered the draft like Ozzie Newsome, and he put on a clinic once again this year. The Ravens 2011 draft class is a near perfect blend of value and need and puts them in position to make another run deep into the playoffs.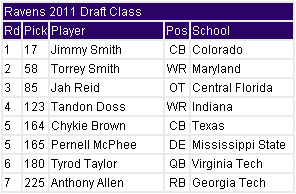 Nearly everyone steered clear of Jimmy Smith in the 1st round and some likely removed him from their draft board altogether. His long list of positive drug tests and run-ins with the law raise serious concerns about his ability to stay out of trouble, but it was a necessary risk for the Ravens. Realistically, he won't stay clean in the NFL – handing millions of dollars to a 20-something with a history of drug abuse just isn't a recipe for success. But in the short term the Ravens strong leadership group, featuring Ed Reed and Ray Lewis, should be able to keep him focused. Even if he strays later in his career, this pick was about the immediate future – anything Smith gives beyond that is an added bonus.
I love the selection of Torrey Smith in the 2nd round. The concern surrounding Smith was that he is a one-dimensional deep threat at this point in his career. In Balitmore, however, that's all they need. He can be used to stretch the field as a third or fourth option while he develops into a more well-rounded receiver.
Jah Reid was a slight reach in the 3rd round in my opinion, but due to his size and athleticism he realistically wasn't going to fall much further. Ideally Jared Gaither re-signs and Reid can develop while playing a backup role. If Gaither bolts, however, Reid will be given an opportunity to win the starting job at right tackle.
Tandon Doss is a 2nd round talent who fell due to concerns about his health, but in the 4th round he is well worth the risk. In the long run, it's possible that he develops into a more polished receiver than Torrey Smith. I wouldn't expect much from him in 2011, but he'll be groomed to step into a starting role once Mason and Boldin are gone.
Chykie Brown (pronounced: shockey) had value in the 5th round, but he'll struggle to find a spot in a crowded Ravens secondary. As of right now he looks like their fifth or sixth option at cornerback.
Pernel McPhee is a potential steal in the 5th round. He doesn't have a ton of upside, but he has the size and athleticism to play both end and tackle in the Ravens hybrid 3-4/4-3 defense. They needed to add a versatile lineman who could contribute immediately and to get one this late is phenomenal.
I'm not a fan of the Tyrod Taylor selection. He clearly doesn't have a future as a starter in Baltimore, and he isn't nearly polished enough to provide value as a backup. Their goal here is clearly to develop him and trade him down the road. They obviously didn't pass up on much in the 6th round to take him, but I just don't like that strategy – especially when the Ravens still need to bring in a veteran backup for Flacco (unless they're satisfied with Hunter Cantwell).
Anthony Allen was brought aboard in case Jalen Parmele isn't re-signed as the third-string running back. He's a similar player to Parmele – a physical downhill runner – and can fill McGahee's role in the offense if needed.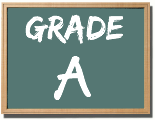 It's tough to find any major flaws in this draft class. The only thing missing was the lack of a linebacker, which could become an issue since Tavares Gooden, Jameel McClain and Prescott Burgess could all become free agents depending on how the new CBA plays out. Overall, the Ravens filled most of their needs and managed to do so without reaching in any of the early rounds – a rare accomplishment.
About the author