This was a very strange draft for the Rams. At times it felt like Josh McDaniels, who embarrassed himself on draft day while with the Broncos, had hijacked the war room and was calling the shots. They filled some holes, but there wasn't a lot of value in this class.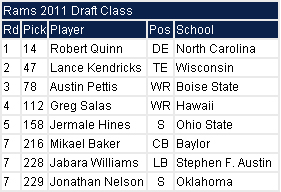 The selection of Robert Quinn seemed like a nice pick at the time, but when looking this draft class as a whole it raises some concern. Considering the reaches they made throughout the later rounds, it would be nice to say their draft class was at least anchored by a can't-miss prospect in the 1st round. I like Quinn, but he definitely doesn't fall into that category. He has a ton of upside, but there are obvious concerns when drafting a player who hasn't set foot on a field in over a year.
Lance Kendricks was one of the biggest reaches of the draft – and I say that even though he was my second-rated tight end. There was a huge dropoff at the position once Kyle Rudolph came off the board, but the Rams waited just four picks to take Kendricks. If they were dead set on taking a tight end, why not trade up a few slots for Rudolph? Kendricks fills a glaring hole, and may start as a rookie, but it won't change the fact that much better prospects were still on the board. It's also worth noting that in 2009 McDaniels reached for tight end Richard Quinn. In two seasons in Denver, Quinn caught one pass.
I have similar criticism of the selections of Austin Pettis and Greg Salas. Both add some much needed depth, but both were reaches. And to make matters worse, they're both very similar players. Pettis and Salas are possession receivers who can excel in the Rams system, but it will be tough to get both players the football on a consistent basis. And it doesn't help that Brandon Gibson fills a very similar role among the receivers already on the offense. The Rams needed to bring in someone who could stretch the field and potentially be a red-zone threat, and I don't see either Pettis or Salas filling those voids.
Jermale Hines was a slight reach in the 5th round, but he adds depth to a shallow secondary and should contribute immediately on special teams. Depending on how they address the secondary in free agency, there's an outside shot that he wins the starting strong safety job.
Mikail Baker was used primarily as a kick returner at Baylor, and will probably be given an opportunity to earn that job in St. Louis. If he doesn't, however, he'll have a difficult time keeping a roster spot.
I like Jabara Williams as a sleeper prospect at linebacker. The Rams don't have a ton of talent at the position aside from James Laurinatis, so he'll be given a serious look in training camp. It's tough to predict much playing time for a 7th-round pick, but Williams will at least have an opportunity to prove himself in St. Louis.
Like Hines, Jonathan Lewis has limited upside but adds depth at safety. I expect the Rams to address the position in free agency, but it was wise for them to bring in some rookies as an insurance policy. In the 7th round Lewis had decent value and could contribute as backup at free safety.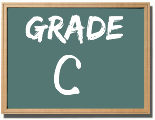 Overall, the Rams landed two potential starters – Quinn and Kendricks – and a few others who may contribute. Normally, that constitutes a solid draft. However, you have to consider the talent that Rams passed over early in this draft. The selection of Kendricks is the one that will be heavily scrutinized over the next couple years if he doesn't work out. They had an opportunity to move up just four slots to land Kyle Rudolph. Additionally, the next two players off the board – Stefen Wisniewski and Ben Ijalana – could have filled a hole at right guard. Only time will tell if the Rams made the smart choice, but it doesn't look promising.
About the author