The San Francisco 49ers aren't exactly knocking on the door of Super Bowl, but they are expected to compete for the playoffs in the weak NFC West. With that in mind, I was surprised at the lack of immediate help added in this draft. It's possible that one only player from this draft sees anything close to significant playing time in 2011.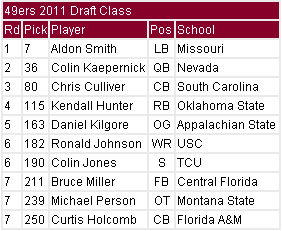 That player, of course, is 1st-round pick Aldon Smith. I'm still not quite sure how to evaluate Smith. He clearly has the raw talent of a top-10 pick, but it's just that: raw. While there may not be more than one or two players in this class with more talent, there are at least 10-15 players that are safer bets to develop into Pro Bowlers. Smith is a boom-or-bust prospect and based on his lack of experience and raw athleticism, it's just too early to say which path he'll go down. So while I think he's a great fit for the 49ers 3-4 defense, it's a risky move.
I was mildly surprised by the selection of Colin Kaepernick in the 2nd round. Entering the draft I expected Jim Harbaugh to pass on this year's quarterback class to keep open the possibility of adding Andrew Luck in 2012. Although, as the Panthers showed this year, there's no job security for a 2nd round pick. Due to his arm strength and athleticism, I believe Kaerpernick quickly became one of the most overrated prospects in this year's class. I have concerns about his throwing motion and his accuracy. Harbaugh has gained a reputation as a quarterback guru, but it could take two to three years to develop Kaepernick and I can't envision the 49ers organization showing that type of patience coming off the never-ending Alex Smith era.
Chris Culliver was a reach in the 3rd round. They needed to add depth at cornerback, but I'm not convinced Culliver has the athleticism to play the position. He may be better suited to play free safety.
I'm a huge fan of Kendall Hunter and I think he can be a dangerous compliment to Frank Gore. He isn't an every-down back, but is a threat as a receiver out of the backfield and has home-run hitter potential. Expect Harbaugh will get creative with him this season.
Daniel Kilgore was another reach. He'll provide depth at both guard and center, but his upside is limited.
I like the addition of Ronald Johnson in the 6th round. He was productive at USC and can be a serviceable 3rd or 4th option for the 49ers. There were better players on the board, but he had decent value in the 6th round so I can't argue with the selection too much.
Colin Jones isn't anything special, but he could compete for playing time simply due to the lack of depth in the 49ers secondary. The free safety job should be an open competition in training camp, and I wouldn't rule out Jones as an option.
Bruce Miller is an interesting selection. He played defensive end at UCF but the 49ers are going to convert him to fullback. I'm not a huge fan of drafting someone who needs to make such a drastic position change, but in the 7th round they didn't pass up on much to take him.
I like Michael Person. He'll never be a starter but should provide depth at both tackle and guard.
Curtis Holcomb is a developmental prospect who likely won't see much playing time early in his career. He's undersized but had a reputation as a shutdown corner at FAMU.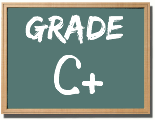 The 49ers took a lot of risks in this draft, and unfortunately I don't think many of them will yield high rewards. Smith and Kaepernick could both develop into starters, but their next eight picks produced nothing but career backups. There were simply too many risks and not enough value from this class as a whole. That said, all the whiffs will be forgotten if Kaepernick develops into a Pro Bowler. But if he fails, it's an early black mark on Harbaugh's NFL résumé.
About the author