GM Rod Graves proved in this draft why he is one of the most under-appreciated draft decision makers in the business. The Cardinals had glaring holes at quarterback and on the offensive line; but without any elite players at those positions in the draft, Graves made the wise decision to simply target the best player on the board.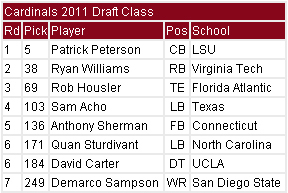 In the 1st round that player was clearly Patrick Peterson. He was the No. 1 prospect in the draft in my opinion, and getting him at No. 5 is an absolute steal. Peterson and Dominique Rodgers-Cromartie have the potential to form one of the league's most feared cornerback duos.
I was surprised by the selection of Ryan Williams in the 2nd round, but when you consider the struggles of Beanie Wells through his first two seasons it makes sense. They probably aren't giving up on Wells, but Williams is a smaller, more athletic runner and will be a nice compliment to Wells' north/south style. Tim Hightower is a free agent and will likely be the odd man out.
In the 3rd round Rob Housler was a reach, but fills a glaring hole at tight end. Stephen Spach and Ben Patrick simply aren't threats in the passing game and both are free agents. Housler is still very raw, but has the size and athleticism to be a matchup nightmare for opposing linebackers and safeties. He may take some time to develop, but has a very high ceiling.
I love the selection of Sam Acho in the 4th round. He'll backup Porter and/or Haggans at outside linebacker and will likely be given an opportunity to win a starting job down the road. Additionally, he's a high character guy that will be a great addition to their locker room. It was an excellent value pick at that point of the draft.
The selection of Anthony Sherman is somewhat confusing, especially because Arizona now has four fullbacks on the roster – and that's four more than some teams. I'm not particularly high on him, but it's tough to judge the selection until we see how they use him.
I was shocked to see Quan Sturdivant fall to the 6th round. There are some injury and character concerns (arrested for marijuana possession) but I certainly never expected this free fall. The fact that he tumbled so far makes me wonder if some red flags were raised in interviews – but whatever happened, he's still well worth the risk in the 6th round.
David Carter only has one year of starting experience and I don't think he's a particularly good fit for the Cardinals 3-4 defense. He doesn't appear to have the athleticism to play end, but isn't big enough to be a true nose tackle. They also didn't have a great need for depth at the position, which may make it difficult for him to find a spot on the roster.
Demarco Sampson has shown some talent, but has very little upside. He missed two consecutive years due to injury while at San Diego State and will turn 26 during his rookie year. He's going to have a hard time finding a spot on the 53-man roster.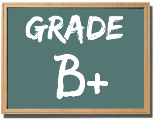 Overall, this was a solid draft for the Cardinals. I really like Rod Graves' approach in the early rounds. However, at some point you do have to address your needs. If the plan is to bring in a veteran quarterback, that's fine, but it doesn't excuse the fact that the offensive line went untouched. No matter who you have under center, you can't expect him to have Kurt Warner's lightening-quick release and pocket presence. Until the line is upgraded, the offense is going to struggle to regain their form.
About the author