When you own as many picks as the Patriots it's tough to get a poor grade in the draft. However, Bill Belichick certainly doesn't get high marks for this year's draft class. One or two risky picks can make a draft great, but only if supported by a few safe selections. The Patriots, however, rolled the dice on almost every one of their selections. It's possible that they'll all work out and this will become a legendary draft class. But there's also a chance that very few of these players wind up contributing in New England.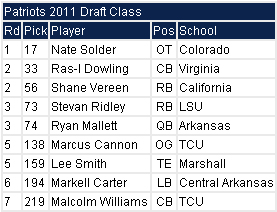 The Patriots selection of Nate Solder was one of the biggest reaches of the entire draft. He was over-hyped based on his size and raw athleticism, but he did very little in college to warrant a 1st-round selection. I gave Solder a 3rd round grade based on the fact that he has the potential to develop into an elite left tackle, but he isn't there yet. When drafting an offensive linemen in the 1st round I expect him to be able to start immediately. It's one of the few positions that can provide immediate value, and the Patriots passed up on some safer options such as Gabe Carimi and Anthony Castonzo to land the guy with the higher ceiling, but also a lower floor.
Ras-I Dowling was another reach with the first pick of the 2nd round. Like Solder, his size and athleticism indicate the potential of a future Pro Bowler. However, injuries and inconsistency limit his immediate value. It will be interesting to see where the Patriots end up using Dowling. He has the potential to play cornerback, but may ultimately be a better fit at free safety.
Keeping with the theme, Shane Vereen was another reach in the late 2nd round. He will be productive in New England as a Kevin Faulk-type change-of-pace running back. However, there were better players that fit that mold on the board such as Kendall Hunter.
The selection of Stevan Ridley in the 3rd round would have been a reach for anyone, but looks like a partucularly poor choice for the Patriots following the selection of Vereen. Ridley is more of a downhill runner than Vereen, but wasn't particularly productive at LSU. In New England he'll benefit from sharing the load with others, but the Patriots passed up an opportunity to land others capable of playing a larger role at that spot in the draft.
Ryan Mallett was one of the few value-based selections for the Patriots in this draft. He may not see the field for three years, but there is a chance that he may by Tom Brady's eventual replacement. He certainly has the all the tools to succeed, it's just a matter of teaching him how to think and act like an NFL quarterback.
The selection of Marcus Cannon was another great value pick. He was diagnosed with lymphoma shortly before the draft and likely will not play in 2011. If he returns to 100%, however, he will be the steal of this draft. He played left tackle at TCU, but I had him rated as the top interior lineman in this year's class. He has the potential to be a Leonard Davis-like force on the offensive line.
Lee Smith was a solid addition in the 5th round. He may never catch a pass in New England behind Hernandez and Gronkowski, but he'll be used as a blocking tight end and should have a long career in that role.
Markell Carter is a developmental prospect at outside linebacker. He had 19 tackles for loss and 5.5 sacks as a senior in 2010 and has flashed the athleticism to carry that production over to the NFL.
Malcolm Williams is a typical Belichick late round pick – a player with very little collegiate production that the Patriots will try to develop. Williams is a former JUCO transfer who was primarily used as a backup at both safety and cornerback in his two years at TCU. His experience on special teams will be the key to earning a roster spot.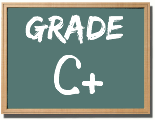 Overall, this was a decent draft for the Patriots based purely on the volume of talent they brought in. However, almost every pick was a reach, right down to Williams in the 7th round. They could have as many as four starters from this class. And they could just as easily have none. For a team hoping to compete for a Super Bowl title, this draft class is severely lacking instant-impact players.
About the author