The Dolphins were in a difficult position in this year's draft. They desperately needed a quarterback, were stuck in no mans land in the 1st round and didn't own a 2nd round pick. And their strongest positions on the roster – defensive end and linebacker – were the two deepest positions in the draft. As a result, they were forced to reach to fill needs early in the draft.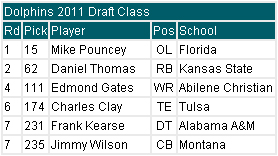 The first reach was for Mike Pouncey. I am confident that without his last name, Mike Pouncey would have not have been a 1st round pick. There simply isn't a significant difference between and him and other interior linemen in this class such as Ben Ijalana and Will Rackley. That said, I do think Pouncey is a good fit in Miami. He'll start immediately, but don't expect him to live up to the expectations set by his brother in Pittsburgh.
In the 2nd round the Dolphins traded up to land Daniel Thomas. This was another pick that filled a need, but was definitely a reach. Thomas has potential, but there are clear flaws in his game which will limit his ability to be an instant-impact player. Thomas is tall for a running back and, as  a result, has runs very high. He isn't an elusive runner and frequently takes a pounding over the course of a game. As a powerful north/south runner he fits what the Dolphins are looking for, but hopefully they aren't going to rely on him for 20+ carries per game as a rookie.
I love their selection of Edmond Gates in the 4th round. He is the missing piece of the Dolphins receiving corps. They already had the No. 1 guy (Marshall) and two solid slot/possession receivers (Harline and Bess). Now Gates gives them the vertical threat they were missing. He has the potential to be a Mike Wallace/DeSean Jackson type receiver in Miami.
It will be interesting to see how they use Charles Clay. He's sort of a fullback/tight end 'tweener that doesn't have a true position. The Dolphins may have to get creative to incorporate him into the offensive scheme.
Frank Kearse was drafted for his size, and his size alone. The Dolphins were looking to add competition for Chris Baker for the backup nose tackle job and Kearse will be given the opportunity to win that battle. He's a low risk/potentially high reward option in the 7th round.
Jimmy Wilson's story was well documented during the draft. His football career was sidetracked by a murder trial, but after being acquitted (after spending two years in jail) he got back on the field and had solid year for Montana. He has limited playing experience, but has spent time at both corner and safety and may have some upside. There were better players on the board, but there's little risk involved in the 7th round.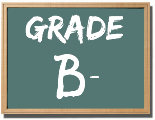 Overall I'm not too excited about this draft class for the Dolphins. They reached to fill some needs and seemed to approach the draft from the mindset of a team needing just a couple of pieces to compete for a Super Bowl title. In reality, the Dolphins are far from being competitors - especially with the Patriots and Jets clearly ahead of them in their own division. They got a few nice contributors here, but this isn't the type of draft that turns around a franchise.
About the author