I'm starting to like what Chan Gailey and Buddy Nix are doing in Buffalo. It's easy to come to a struggling franchise and simply decide to draft the first quarterback that comes along, but they're taking a patient approach to rebuilding the Bills.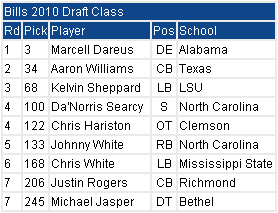 I would have taken Patrick Peterson in the 1st round, but Marcell Dareus isn't a bad choice. He'll start immediately and should be a difference maker on their defensive line. His experience in Alabama's 3-4 defense will help him make a smooth transition to the NFL. Don't expect multiple Pro Bowls from Dareus – 3-4 defensive ends just don't get that type of recognition – but that doesn't mean he won't still be a great player for them for the next decade.
I like Aaron Williams in the 2nd round. Leodis McKelvin has really struggled and there isn't much depth behind him. There is also a chance that they move Williams to safety. Donte Whitner is set to become a free agent and may not return. Jairus Byrd could probably shift over to strong safety, allowing Williams to take his spot at free safety. Either way, I expect Williams to see significant playing time as a rookie.
Kelvin Sheppard wasn't a huge reach in the 3rd round (I gave him a 4th-round grade) but there were better players available. Martez Wilson, Colin McCarthy and Quan Sturdivant – just to name a few – all had higher grades and were still on the board. It will be interesting to see if they keep him at inside linebacker. He has the size to move to the outside, where they actually need more depth.
Da'Norris Searcy could prove to be a steal in the 4th round. I only gave him a 5th round grade, but the Bills will likely give him a chance to win the starting job at strong safety. He's a big, physical player who has a chance to be an enforcer in their secondary. While it may have been a slight reach, I think he's a great fit for what they're trying to do on defense.
Chris Hairston was a reach in the 4th, and it's disappointing to see the Bills wait this long to address their offensive line needs. He lacks the athleticism to fill their need for a left tackle, and may ultimately have to move to guard which is one of the few positions where the Bills didn't need help in this draft.
I like Johnny White in the 5th round. He won't be asked to do much in 2011, but Fred Jackson is 30 and likely won't be around much longer. Once C.J. Spiller takes over the full time duties, White will be there to back him up.
Chris White had decent value in the 6th round, but just like with Sheppard, it comes at a position that doesn't need the added depth. White has a future in this league, but I would not be shocked if he struggles to make the final roster cut in Buffalo.
I really like the addition of Justin Rogers in the 7th round. He's undersized, but I like his chance to devele into a solid nickel back. There will be a lot of competition for that slot in Buffalo, but he definitely has a chance to win some playing time as a rookie.
Michael Jasper is a behemoth of a man. At 6'4″, 394 pounds they're obviously hoping he can provide depth at nose tackle. At that size it's tough to imagine him ever being a three-down lineman, but in certain short-yardage situations he can be a valuable situational player and was well worth a 7th round selection.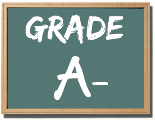 Overall this was a surprisingly solid draft the Bills. I didn't have a ton of faith in Gailey and Nix after their performance in last year's draft, but they rebounded nicely. They landed at least two starters (Dareus and Williams) and possibly as many as four if Sheppard and Searcy are able to live up to expectations.
About the author