As I was thinking over some different scenarios while updating the mock draft this weekend I realized A.J. Green – the top overall prospect according to some – could fall to the Washington Redskins.
Since mid-January I've had Julio Jones linked to the 'Skins, but I think it's becoming increasingly likely that Green could fall.
The key to this scenario is having two quarterbacks – most likely Cam Newton and Blaine Gabbert – come off the board in the top 10. I think Gabbert is a top-10 lock, so the wildcard is Newton.
I still have Newton at No. 15 to the Dolphins, but I'll admit that it is a strong possibility that the Bills roll the dice on him at No. 3. If that happens it could set off a chain reaction that sends Green falling down the board.
So let's talk through this scenario…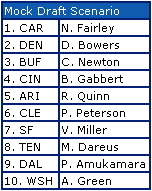 The Bills take Newton at No. 3. That leaves the Bengals to decide between Gabbert and Green and possibly Patrick Peterson. It looks increasingly likely that Carson Palmer is finished in Cincinnati, so they go with Gabbert.
Arizona then takes either Robert Quinn or Von Miller. That leaves Green on the board for the Browns, who would have to consider him. However, with Peterson also available I can't see the Browns passing up an opportunity to land another premier cornerback.
Once Green gets past the Browns, there's very little chance that the 49ers, Titans or Cowboys would settle for a receiver if they have the opportunity to address areas of need on defense.
The Niners take Miller, Titans jump at the chance to land Marcell Dareus and the Cowboys are more than happy to take Prince Amukamara.
And before you know it, the Redskins are on the board with A.J. Green staring them in the face. It would be a dream scenario for Mike Shanahan and company and an opportunity they couldn't pass up.
About the author