I strongly believe that Jimmy Clausen deserves more time to prove himself in Carolina. The fact that his rookie year stats compare favorably to John Elway should be proof of that. You simply can't draw conclusions based on a player's first year.
But not only was Clausen struggling because he's a rookie, but he was a rookie on a terrible football team. It just isn't fair to jump to conclusions based on his performance in 10 starts in that environment.
Some great research by J.J. Cooper of AOL Fanhouse sheds some light on just how much Clausen was suffering from the play around him.
Cooper looked at each sack in the NFL this past season and timed how long the quarterback held onto the football. The average sack occurred at 2.7 seconds, so he classified any sack which came after the three-second mark as being on the quarterback rather than the offensive line.
Clausen took a lot of heat for getting sacked 34 times in just 10 starts. Cynics mocked those who said he was "NFL ready" and pointed to these sacks as proof that he couldn't possibly have been prepared for the rigors of the NFL.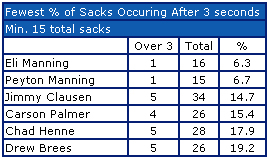 Well, according to Cooper's research only Eli and Peyton Manning had a lower percentage of sacks which occurred after than three-second mark than Clausen.
In total, just five of Clausen 34 sacks were "his fault", or 14.7 percent of his total.
Compare his total to other rookies… Sam Bradford caused 34.3 percent of his sacks, while Colt McCoy was at fault on 47.8 percent of his.
So before you start arguing that the Panthers should take Cam Newton No. 1 overall, consider these stats. It's possible that with a healthy Jeff Otah returning to Carolina's offensive line, Clausen may be just fine.
About the author