Tony Pauline of DraftInsider.net passed along an interesting rumor in his blog the other day.
According to his sources two of the Cowboys early targets in the draft are cornerbacks Patrick Peterson and Brandon Harris.
In order to get Peterson they would need to move up – probably into the top three – which the source acknowledges. Their interest in Harris, however, is somewhat unclear.
For the sake of Cowboys fans, I really hope the source meant they would target him in the 2nd round and not with the 9th overall pick in the draft. Harris is talented, but far too inconsistent. I also question his ability to match up against bigger, more physical receivers. In Miami's bowl game, Harris looked helpless when matched up against Notre Dame's Michael Floyd.
That said, I would fully endorse the Cowboys trading up for Peterson or taking Harris in the 2nd round. They need to upgrade the secondary and taking a corner in one of the first two rounds is probably the best way to do so.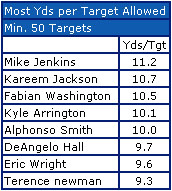 2008 1st-round pick Mike Jenkins looks like a bust and Terrence Newman is clearly regressing.
You could even make a case that no cornerback was less reliable than Jenkins this past season. According to ProFootballFocus.com Jenkins ranked dead last in the NFL with an average of 11.2 yards allowed per target. Newman wasn't far behind, allowing 9.3 yards per target – 8th worst in the league.
As we get closer to the draft I suspect rumors surrounding the Cowboys interest in Peterson to heat up. He is a potentially elite cornerback and Jerry Jones is one of the few draft decision makers out there that doesn't hesitate to take a defensive back early. In his career in Dallas he's already taken two DBs in the top 10 (Newman and Roy Williams) and two others in the 1st round (Jenkins and Kevin Smith).
About the author