Maryland junior wide receiver Torrey Smith announced after the Terps big win over East Carolina that he would be taking his talents to the NFL.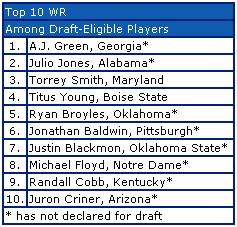 Given the extremely weak class of senior receivers, it makes sense for Smith and many other junior receivers to turn pro.
Smith is coming off a breakout junior year and could compete with Julio Jones and Jonathan Baldwin (neither of whom have officially declared) to be the second receiver off the board after A.J. Green.
Although Smith is far from a household name, I fully expect him to shoot up draft board after showcasing his talents at the combine and in his pro day.
What I love most about Smith is his versatility. He has the speed to be a serious deep threat (he averaged 16.1 yds per rec this season) but he also has the size to be a possession receiver.
About the author