It's been a strange year for Jimmy Clausen. After sliding all the way to the second round of the draft he finally winds up in Carolina. And now just a few months later Clausen may be preparing for his final start as a Panther.
With their loss on Thursday and wins by the Bengals and Broncos, the Panthers clinched the No. 1 pick in the 2011 NFL Draft.
Assuming Andrew Luck enters the draft – which I believe is a foregone conclusion – the Panthers will make him the top selection.
But is it too early to give up on Clausen?
His performance this season has been nothing short of horrendous, but what can you really learn from a poor performance as a rookie? If history tells us anything, the answer is nothing.
Success as a rookie is certainly meaningful. The rookie record for passer rating is held by Ben Roethlisberger, followed by Dan Marino, Y.A. Tittle and Matt Ryan.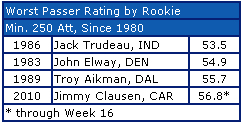 But the opposite end of the scale gives us two really good reasons why it's two early to give up on Clausen, and their names are John Elway and Troy Aikman. Can you imagine how different the NFL would look if the Broncos and Cowboys had given up on them after one season?
In 1983 the Broncos finished 9-7, but it was in spite of Elway, not because of him. What if they had thrown in the towel and selected Boomer Esiason in the 1984 draft?
In 1989 the Cowboys finished 1-15. What if they had given up on Aikman and drafted Jeff George or Andre Ware the following season?
I'm not saying that drafting Luck is the wrong decision for the Panthers. I think he is the best quarterback to enter the draft in years – at least since Peyton Manning if not longer. No matter who your current quarterback is, you can't go wrong by taking a player with Luck's talent.
So while Carolina heads in a new direction, other teams around the league should jump at the chance to land Clausen at a cheap price (he could probably be had for a 3rd or 4th round pick). He has the skills to be an elite quarterback in this league and there's no reason to be scared away based on a few rough games as a rookie.
About the author