The 49ers had a chance to make a splash with their two 1st round picks, but I'm not sure they accomplished that.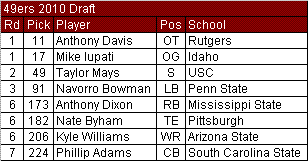 They reached for Anthony Davis. He just isn't polished enough to have been selected 11th overall. There's no denying his potential, but he has yet to show that he can be consistent. That said, San Francisco just might be a perfect place for him. He's best suited at right tackle, at least early in his career, and that's likely where he'll play with the 49ers.
I love the selection of Mike Iupati. He'll be a starter from day one and I wouldn't be at all surprised if he earned a trip to the Pro Bowl as a rookie. He's the best interior lineman to enter the draft since I started scouting in 2004.
The issue I have with their two 1st round picks, however, is the fact that they're showing an awful lot of confidence in Alex Smith by selecting two offensive linemen. Essentially they're saying: you've got your star receiver, you've got your star running back, you've got your offensive line, now go lead us to the playoffs. If he doesn't make major strides this year the 49ers will be back to the drawing board sooner rather than later.
The 49ers may have landed one of the top steals of the draft by snagging Taylor Mays in the 2nd round. At some point in the past year Mays became so overrated that I think he's now actually underrated (if that makes any sense). Yes, he struggles in coverage, but he does a lot of other things very well. He's a force against the run and he has the athleticism necessary to improve his coverage skills.
Navorro Bowman is a big risk due to his character concerns, but the 49ers look like a good place for players like him to land. Mike Singletary isn't afraid to put players in their place, and in the 3rd round there's very little risk involved.
I love the selection of Anthony Dixon in the 6th round. I honestly have no clue why he fell that far. He has impressive size and adequate speed. He actually reminds me of Frank Gore to an extent. He should be given an opportunity to compete with Glen Coffee for the backup job.
Nate Byham was also a great pick. They needed a blocking tight end and Byham can fill that role perfectly.
Kyle Williams, the son of White Sox GM Kenny Williams, is a decent late-round pick. He can potentially help out as a return specialist, but I don't see him being much of an asset as a receiver.
The one thing missing from this draft was a cornerback, which they didn't land until the 7th round with Phillip Adams. He's a decent athlete but he doesn't look like anything special. He'll compete for a backup job, but the 49ers really needed to do more to address this need.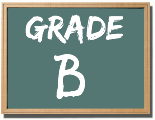 I was very surprised at the way the 49ers draft shaped up. They've spent the past two drafts building an offense that should be able to compete immediately, but if Alex Smith doesn't make major strides this season it may be all for nothing. It would be devastating to have spent this much effort rebuilding an offense only to be forced to start over again at quarterback in next year's draft.
About the author