I usually like when teams move back and accumulate picks, but I think the Vikings may have outsmarted themselves. Rumor has it they wanted Patrick Robinson, and liked their odds of getting him in the early 2nd round. I won't penalize them in my grade, because we can't know for certain, but it's worth mentioning.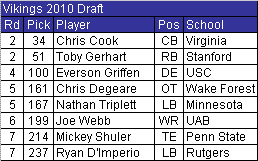 Since Patrick Robinson was off the board, the opted for Chris Cook. I like Cook, but it was a huge reach to take him in the early 2nd. That said, I understand the Vikings decision. Assuming Brett Favre returns, they're going to do everything they can to win it all next year. They needed to add depth at cornerback and Cook filled that hole.
I love the selection of Toby Gerhart. Some have criticized this pick because he doesn't have the athleticism to fill Chester Taylor's role in the offense. But I like the selection because he's better suited to take of the workload off Adrian Peterson's shoulders. The combo of Gerhart and Peterson will allow the Vikings to wear down opposing defenses and will be an especially frightening duo when they're running out the clock.
Everson Griffen was a steal in the 4th round. I was shocked to see him fall that far, despite injury concerns. If he gets back to 100 percent he more than live up to expectations. He's also a great fit for their defense. He's similar to Ray Edwards and will be a nice addition to their rotation as a rookie.
They reached for Chris DeGeare in the 5th round. His ability to play both right tackle and guard made him an attractive option, but his upside is limited. A number of linemen, such as Marshall Newhouse, were still on the board and would have been better fits.
Nathan Triplett was also a reach. They did need depth at linebacker, but players such as Greg Hardy and Dekota Watson were still on the board and are much better fits in Minnesota than Triplett.
Joe Webb is an elite athlete and a great 6th round pick. He played quarterback at UAB, but he has the size and speed to play receiver in the NFL. He likely won't see much playing time early on, which will serve him well as he sits and learns the position.
Mickey Shuler will compete for a backup tight end job behind Visanthe Shiancoe and Jim Kleinsasser.
Ryan D'Imperio has limited upside but could contribute on special teams. He's nothing special, but there wasn't much left on the board in the late 7th round.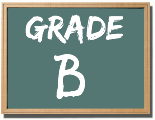 I have mixed feelings about this draft. Their first pick was very short sighted, but for good reasons. Gerhart will serve as a nice complimentary piece and Griffen could be a steal. However, they failed to add much on the third day of the draft. They seemed to reach for a number of players and I wouldn't be surprised if a few of their picks fail to make the roster, even as rookies. This was a very solid draft, but it certainly isn't anything special.
About the author