Considering they didn't own a 1st-round pick, you simply couldn't have asked for anything more from the Panthers in this draft.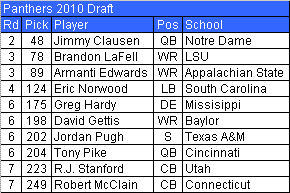 Jimmy Clausen is a a top-10 talent. There's simply no denying that fact. However, there are concerns about his mental makeup. And apparently NFL teams were even more concerned about that aspect of his game than many anticipated. Despite those concerns, he was absolutely worth a gamble in the 2nd round. Perhaps his draft-day fall will serve as a wake-up call and motivate him to live up to his potential.
While I love the pick of Clausen, I will say this: I hope they didn't take him just because they didn't know any better. 30 other teams passed over Clausen, and some (even some that desperately needed a quarterback) did so more than once. That makes you wonder just how bad he was during the interview process. Unfortunately the Panthers probably never did their homework on him they way they would have if they owned a top-10 pick. It seemed highly unlikely that he would fall to No. 48 entering the draft, meaning they likely never considered the possibility that they would have the opportunity to draft him.
I love the selection of Brandon LaFell in the 3rd round. He had a disappointing senior year, but I believe he has 1st-round talent. He may not have the speed to be a truly elite N0. 1 receiver, but he can become an excellent possession receiver in the mold of Hines Ward. He had great value in the 3rd round.
As much as I like the selections of LaFell and Clausen, I hate the selection of Armanti Edwards. He was a huge reach in the 3rd round and to make matters worse, they gave up next year's 2nd-round pick to get him. With guys like Taylor Price and Mardy Gilyard still on the board, it just wasn't a smart selection.
I was very surprised that Eric Norwood fell the 4th round and I think he's a great fit in Carolina. He may take some time to develop, since he primarily played defensive end in college, but he could develop into a starter. Strong-side linebacker is a position of weakness for the Panthers, so if he comes along quickly he could see playing time sooner rather than later.
Greg Hardy is a tough player to judge, but he's worth the risk in the 6th round. When healthy, he's looked like a 1st-round talent. He's an elite pass rusher who can impact the game immediately if he can stay on the field. Unfortunately, he just can't stay healthy.
David Gettis is a big, athletic receiver who has a ton of upside. He'll need some time to develop, but he's a nice developmental prospect. He has the potential to emerge as the best receiver of the Panthers three draft picks, but he's the least likely to make an immediate impact.
Jordan Pugh will add depth to the Panthers secondary and likely contribute on special teams. He's played both cornerback and safety in his career, but will likely play safety in the NFL.
The Panthers obviously didn't need to take another quarterback, but in the 6th round Tony Pike was too good to pass up. Its a great situation for Pike, who really needs to sit for two or three years to bulk up and develop as a quarterback. He has the tools to potentially start someday, but he's a few years away from entering into a real quarterback competition.
R.J. Stanford and Robert McClain will both add to the Panthers depth at cornerback. Neither has a ton of upside, but the Panthers needed to improve their depth. They're both safe 7th round picks who have a good chance to make the roster.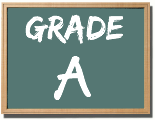 The Panthers took a lot of chances in this draft, but I think they picked their spots perfectly. They landed three players with 1st-round talent (Clausen, LaFell and Hardy), each of whom fell in the draft for various reasons. Just based on the odds of success in the NFL, at least one of them will likely be a complete bust, but they were all well worth the pick the Panthers spent to acquire them. When we look at the Panthers roster three years from now, I expect to see three starters from this draft class and that's all you can ask for – especially considering they didn't use a 1st-round pick.
About the author