With so many picks, its hard to earn a bad grade in the draft. The Eagles have so many young players on their roster, its hard to imagine them putting it all together right away. However, a few years down the road this offseason could be looked at as the start of a dynasty.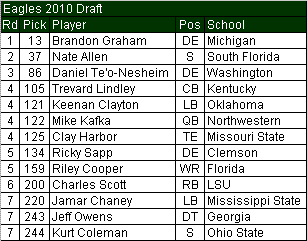 I love the selection of Brandon Graham in the 1st round. I think he's better suited as a defensive end in a 4-3 scheme than as a linebacker in the 3-4, so I was glad to see him land in Philly. He isn't a complete player yet, but he'll make an immediate impact as a pass rusher. A double-digit sack season as a rookie is well within reason.
Nate Allen was the ideal 2nd-round pick for the Eagles. He'll compete with Marlin Jackson for the starting job at free safety and I expect him to win that competition. He's a ball-hawking safety who should make an immediate impact.
They reached for Daniel Te'o-Nesheim in the 3rd round. He's similar to Brandon Graham but not as explosive. He's a hard worker and the type of player coaches love, but I don't see him as a future starter. He'll be buried on the depth chart early in his career.
The Eagles definitely needed a cornerback, but I don't like the fact that Trevard Lindley was their only selection at the position. He's undersized and is coming off a disappointing senior year at Kentucky. He's probably nothing more than a nickel corner in the NFL.
They also reached for Keenan Clayton, but I can see why they like him. He's a perfect fit at weak-side linebacker in their system. However, he has very limited upside and will be nothing more than a backup in the NFL. In fact, he may struggle to make their crowded roster out of camp.
I like Mike Kafka but I was surprised the Eagles selected a quarterback so early in the draft. He'll be their third quarterback this season and eventually take over as the backup once they part ways with Vick, likely next season.
I think Clay Harbor is one of the best small-school sleepers in this year's draft class, but I'm not sure he's a great fit in Philly. He's a prototypical half-back and should be used in a similar way the Redskins use Chris Cooley. His success in the NFL could depend on the Eagles willingness to carve out a niche for him in their offense.
Ricky Sapp is a potential steal in the 5th round, but he didn't land in a great place in Philadelphia. He's a defensive end/linebacker 'tweener and is probably better suited as a linebacker in a 4-3 defense. I like his potential, but I don't see how he'll be able to get onto the field early in his career with the Eagles.
I can't possibly say enough good things about their selection of Riley Cooper. I truly believe Cooper will be one of the gems of his draft class. Playing in Urban Meyer's offense at Florida he never really had the opportunity to showcase his skills, but he can be a great possession receiver in the NFL. There are concerns about his speed, but he's a smart player with great hands and I think he'll emerge as a favorite target of Kevin Kolb early in his career.
Charles Scott can be an effective short-yardage running back and will be given the opportunity to compete with Dwayne Wright for the backup job.
I was shocked that Jamar Chaney fell to the 7th round, and I still don't know why. He's a good athlete with decent size and was productive on a bad defense at Mississippi State. The Eagles are stacked at linebacker though, which means he'll have to fight for a spot on the roster.
Jeff Owens will provide some depth at defensive tackle, competing with Antonio Dixon and Trevor Laws for playing time as a backup.
Kurt Coleman was one of the best 7th-round picks this year. He can play both safety positions and excels on special teams.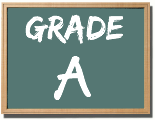 Overall, I really can't complain about anything the Eagles did in this draft. The addressed nearly every position of need and landed a number of players, even in the late rounds, that will compete for playing time early in their careers. Three years from now we could look at the Eagles roster and see three or four starters from their 2010 draft class.
About the author