The Texans did a great job filling needs in this draft, but I think they reached a little too often to do so. They're feeling the pressure to win now, which can sometimes lead to poor draft-day decisions.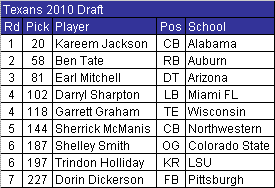 I like Kareem Jackson, but he wasn't worth a top-20 pick. They obviously looked at their starting cornerbacks (Brice McCain and Quin Glover) and panicked. With Ryan Mathews off the board, probably their only non-cornerback option in the 1st-round, they were dead-set on taking a corner. Unfortunately there just wasn't anyone other than Haden worth a top-20 pick.
Their 2nd-round selection of Ben Tate also reeks of them locking in on one positions and insisting on filling it with that pick. They simply couldn't enter 2010 with Steve Slaton as their starting running back. After missing out on Mathews in the 1st round, they had to address the need in the 2nd. Tate can be a nice compliment to Slaton but he wasn't worth the 58th overall pick in the draft. They should have rolled the dice that Tate or a comparable running back would be available in the 3rd round.
Once again in the 3rd round they reached to fill a need. Their defensive tackles have all been career underacheivers, especially starters Amobi Okoye and Shaun Cody. I don't disagree with addressing the need, but Earl Mitchell is too raw to have an instant impact. He has upside, but it will take some time to develop him into a starter. This just wasn't a good fit for Mitchell. He's the type of player that would have benefited from playing behind a proven veteran for a year or two.
In the 4th round they reached again, this time to add depth at linebacker. Darryl Sharpton is a versatile linebacker who can backup DeMeco Ryans on the inside or compete for playing time at the weak-side position. By the 4th round reaches don't look as bad, but it doesn't change the fact that there were better players on the board.
I love the selection if Garrett Graham in the 5th round. He is a very similar player to fellow Badger Owen Daniels. No one will be expecting Graham to see much playing time as a rookie, but he'll provide insurance behind Daniels who missed nearly the entire 2009 season with an ACL injury.
Sherrick McManis has limited upside, but they needed to add more depth at cornerback. He'll play special teams and be a 4th or 5th option at cornerback if the makes the roster.
I was surprised that the Texans waited until the 6th round to address their interior offensive line. Shelley Smith doesn't have much upside, but he could see playing time as a rookie if for no other reason than the Texans don't have many other options.
Trindon Holliday will be an interesting player to watch in 2010. Given his size (5'5″, 159 pounds), its hard to imagine him doing anything other than returning kicks and punts. But can he even win that job over Andre' Davis and Jacoby Jones? I hope he does just for the entertainment factor of seeing the NFL's version of Earl Boykins returning kicks.
I was absolutely shocked that Dorin Dickerson fell to the 7th round. The issue is obvious that he doesn't have a true position. He's too small to play tight end or wide receiver. He's built like a running back, but has no experience there. But despite all that, he's too athletic not to give a shot to play somewhere. Even if he plays a very limited role, plays can be designed for him to create mismatches. I think the Texans got themselves a steal, so long as they're willing to work him into the game plan.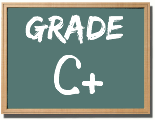 This was a make-or-break draft for the Texans. Either Jackson and Tate make an immediate impact and push the Texans over the top and into the playoffs, or Gary Kubiak will be pushed out the door. The Texans have been just on the outside of legitimately competing for a few years now and they're starting to grow impatient with Kubiak's inability to get them into the playoffs. You have to give them credit for takings risks, but if they don't work out, the next regime will look at this draft as the reason why they've been set back 2-3 years.
About the author