The selection of Jermaine Gresham came as no surprise to anyone, and it was one of the better picks of the 1st round. They've needed and tight end for years, and they've finally give Carson Palmer the weapon he deserves. He could be in position to have a huge rookie season if they decide to work him into their game plan from day one.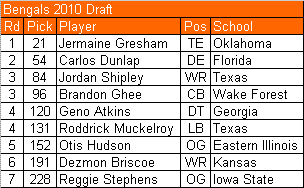 Talent-wise, Carlos Dunlap could be a steal in the 2nd round. But not in Cincinnati. When are the Bengals going to learn that you can't continue to surround yourself with players with significant character concerns. When you put players like Dunlap in a locker room like the Bengals', its a recipe for disaster.
I really like the selection of Jordan Shipley in the 3rd round. I think he's a perfect compliment to Chad Ochocinco and Antonio Bryant. He should be an immediate contributor.
Brandon Ghee fell further than most expect and could be a late 3rd round steal. He won't be asked to start, but will provide a huge upgrade to the depth in their secondary.
Geno Atkins may have been a slight reach in the 4th round, but they needed to improve the depth on their interior defensive line. I like his chance to be a contributor in the rotation from day one.
Roddrick Muckelroy is one of those players who's production in college doesn't match his physical skills. He doesn't look like an NFL player, but its hard to ignore the fact that he played a significant role on one of the best defenses in college football. He may have been a reach, but should make an instant impact on special teams.
Otis Hudson was a reach, even in the 5th round. They needed to add depth to the offensive line, but they should have targeted a player who can make a more immediate impact. Hudson may not be ready to play as a rookie.
I was surprised that Dezmon Briscoe fell to the 6th round and even more surprised that he was taken after fellow Jayhawk receiver Kerry Meier. He could be a steal for the Bengals. He's prototypical possession receiver and should be able to learn a lot from Ochocinco and Bryant. This was an ideal spot for him to land. There will be no pressure to perform early on and he can learn from two accomplished veterans.
Reggie Stephens will probably has a better chance to play as a rookie than Hudson. He can play guard or center and his versatility will make it easier for the Bengals to keep him on the roster. He has the size to be a dominant run blocker and should work his way into their rotation as a backup even though his ceiling is limited.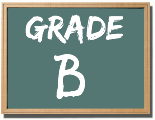 Overall this was a very solid draft for the Bengals. They're ready to win now, and they gave Carson Palmer who weapons who can contribute immediately. I have very serious concerns about the selection of Carlos Dunlap, but that's to be expected of the Bengals every April. A better 3rd day of the draft would have put them over the top, but this was still a good draft for Cincinnati for both the short and long term.
About the author