One of my favorite parts of the draft process is scouting small-school prospects. I guess I just like rooting for the underdog. I'm usually quick to job on the bandwagon of a small-school sleeper, but one position which I stay away from is cornerback.
The track record for small-school cornerbacks isn't just poor, its almost non-existent. Since 2000 there have been 16 cornerbacks drafted from non-FBS schools in the first three rounds. All but two – Dominique Rodgers-Cromartie and Rashean Mathis – have been non-factors in the NFL.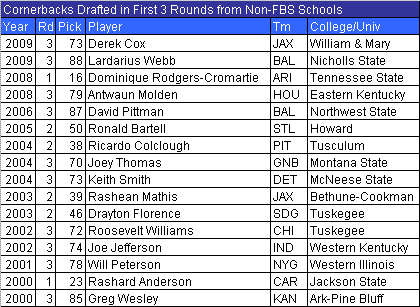 I bring this up, because another name is likely to be added to the list on Friday, Akwasi Owusu-Ansah, and I've struggled where to rank him.
Physically, Owusu-Ansah (I'll just call him AOA from now on) has the skills of a 1st-round pick. In fact, I believe he has more raw talent than any cornerback in this year's class. With his blend of size an speed, he would be a 1st-round lock had he played at USC or Ohio State.
However, as demonstrated by the 16 names above, transitioning to the NFL from D-II isn't easy for cornerbacks. At his level of competition, he has rarely faced receivers with his speed. As a result, its difficult for a cornerback to develop the instincts necessary to transition to the pro game. Typically, only those with off-the-charts athleticism (see: Rodgers-Cromartie) are able make a seamless transition.
So while I'm tempted to give AOA a late 1st-round grade, I'm forced to play the odds and knock him back a full round. If someone grabs him in the late 2nd or early 3rd round they could have themselves an absolutely steal.
Or they could have the next Ricardo Colclough.
About the author