I've asked this before, but he remains unsigned, so I'll ask it again: Why doesn't anyone want Jared Gaither?
In his third year in the league in '09, Gaither blossomed into a Pro Bowl-caliber left tackle, more than adequately filling the shoes of his predecessor Jonathan Ogden. He ultimately wasn't selected to the Pro Bowl, primarily due to the fact that he missed five games last season, but the honor is surely in his future.
If you don't know much about Gaither its probably due to the fact that he skipped the April draft process, entering the 2007 Supplemental Draft instead. In July '07 Gaither was ruled academically ineligible for the upcoming season, which prompted the decision. As a result, the Ravens landed themselves a 1st-round talent with a 5th-round selection.
After backing up Ogden in '07, Gaither took over in 2008. He was impressive as a sophomore, but reached elite status in 2009. Despite his performance, the Ravens only tendered him at the 1st-round level, leaving them susceptible to Gaither signing elsewhere.
Personally, I would rather spend my 1st-round pick on a proven 24-year-old than take a chance on anyone in the draft, even this year's top prospect, Russell Okung.
ProFootballFocus grades Gaither very favorably, ranking him 6th overall among offensive tackles. However, their ratings are accumulated throughout the season, favoring the players who appeared in all 16 games. Given the fact that he only played 11 games in 2009 I decided to take their ratings and adjust them based on number of snaps played to see where Gaither would rank. Taking the overall rating and dividing by snaps played you get this list "per snap" rating list: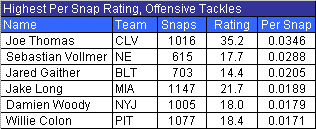 It should be noted that Gaither's injuries are part of the equation as to why teams may not be interested, but if you simply look at his production on the field there's no denying his status as an elite left tackle.
Applying this to the draft, how could any team targeting an offensive tackle not give serious consideration to Gaither?
Teams like the Redskins, Seahawks, Raiders, Bills, 49ers, Cardinals and Cowboys are all in the market for an upgrade at left tackle. Would they honestly rather take a risk on Okung, Bryan Bulaga, Trent Williams or Anthony Davis instead of Gaither?
Posted on
March 19, 2010
by
in 2010 NFL Draft, 49ers, Bills, Cardinals, Cowboys, Free Agency, Raiders, Ravens, Redskins, Seahawks
2 Comments
About the author