Some of the most sought after players on draft day are 3-4 outside linebackers. Teams routinely reach for players who project well in that scheme due to the fact that there are only so many athletes out there with the size/speed combination to excel at a high level in the NFL.
Players such as Larry English (Chargers '09), Bobby Carpenter (Cowboys '06) and Jason Babin (Texans '04) are often drafted in the 1st round based purely on potential, despite limited experience at the position. As a result, the players frequently fail to live up to their 1st-round status.
This year, however, the draft is filled with 'tweeners and teams may still find great value at the position later in the draft. One player which could draw significant attention in the 2nd or 3rd round is Ohio State's Thaddeus Gibson.
Gibson, who played defensive end with the Buckeyes, was impressive at the combine and further helped his stock on Ohio State's Pro Day on Friday.
He was timed somewhere in the 4.5 range in the 40-yard dash, but take that with a grain of salt – OSU's turf is notorious for churning out some ridiculous times. Even so, his 4.72 at the combine was more than enough to convince teams that he has the athleticism to play standing up at the next level.
Regardless of the legitimacy of the time, a 4.5 from a man who weighs in at 243 pounds is sure to catch the eye of NFL decision makers.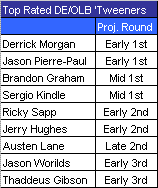 Among those decision makers watching Gibson in person were Steelers' GM Kevin Colbert and defensive coordinator Dick LeBeau. The Steelers are known for addressing needs before they develop, and may be in the market for an outside linebacker to backup and eventually replace 31-year-old James Harrison.
As previously mentioned, its a deep class, so its hard to imagine Gibson coming off the board any earlier than the mid 2nd round. However, he's certainly made an impression and should have solidified his place within the top 75 picks today.
About the author