I've tried not to talk too much about Tim Tebow this offseason. He probably won't be drafted higher than the mid-2nd round and no prospect in that range deserves the attention that Tebow receives from the major media outlets. But I do feel the need to address his performance at the combine on Sunday.
Tebow elected not to throw in Indy, but I believe he still managed to  improve his stock.
One of the biggest questions surrounding Tebow is whether or not he could be used as wild-cat quarterback. His supporters point to his impressive athleticism. His detractors point to his mediocre speed.
While Tebow's 4.72 40-yard dash wasn't anything special, he showed off his athleticism in a number of other drills. I was most impressed by his 3-cone drill, which is actually a much better gauge of a player's in-game speed and agility than the 40-yard dash. Tebow's 6.66 time in the cones  was tops among quarterbacks by .3 seconds, and was the best time among quarterbacks dating back to 2000. For comparison sake, Jahvid Best, who led all running backs in the 3-cone drill, was timed a 6.75.
Tebow also impressed with a 38.5 vertical leap. While its not a drill that directly relates to his in-game performance, it does demonstrate his explosiveness. An impressive vertical usually translates to above average quickness, as Tebow demonstrated in his other drills.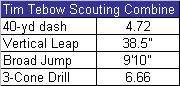 While I'm still skeptical about Tebow's future as a quarterback. I have to admit he just may find a role in the wild cat sooner rather than later. He has the size of a fullback, but his quickness and explosiveness is far more impressive than any of the NFL's current short-yardage backs.
While Tebow still has hopes of playing quarterback, as well he should, after seeing him work out I definitely feel as though he has a future in the NFL at another position should he ever chose to go that route. Given his versatility, athleticism and intangibles, he should be a lock to come off the board in the top 100 picks regardless of how his new throwing motion looks at his pro day.
About the author