Recent reports have linked the Bucs the to South Florida defensive end Jason Pierre-Paul. Unless the Bucs trade down this would be an Al Davis-like draft blunder. But don't worry Bucs fans, its not going to happen. Let me debunk this rumor…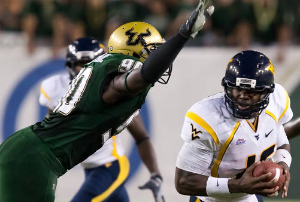 The rumor apparently started with Todd McShay's most recent mock draft. Presumably he heard from a member of the Bucs organization that they were very high on Pierre-Paul and decided to go out on a limb and make the prediction. Since his mock draft was released, other writers have come forward reporting similar whispers from the Bucs front office.
I certainly don't dispute that some are hearing reports from the Bucs that they like Pierre-Paul. But it doesn't mean they're interested in him with the 3rd pick. Here's why:
1. No one in anyone's front office tells the truth at this time of year. You have to take every rumor you hear with a grain of salt and try to find the motivation behind it. If the Bucs are leaking their interest in Pierre-Paul to the media, they must believe they have something to gain by it. However, in this case its hard to see why the Bucs would spread this rumor. Its doubtful that a team would try to trade into the top three for a guy with one year of experience at the D-I level, which brings me to my next point…
2. At this point in the draft process, the real decisions makers have no idea who they want to draft. The coaches and GM's have spent the season focused on their NFL roster, not on scouting. They've spent the last month getting acclimated to the current pool of draft-eligible players in preparation for the combine and pro days. That means that if anyone in the Bucs front office is enamored with Pierre-Paul it is likely the scouts, who just so happen to be the ones most likely blabbing to the media about it.
(polls)

About the author