Bill Belichick has always been quick to jettison aging veterans. Perhaps his most high-profile move was the mid-season release of fan-favorite Bernie Kosar during his time with the Browns. This past season he was up to his old tricks again trading Mike Vrable and Richard Seymour.
In theory, parting ways with players at the first sign that they're slowing down is a shrewd business move. In practice, it only works when an adequate replacement is waiting in the wings.
Instead of getting younger and more athletic, the Patriots just got worse. The problem was Belichick didn't have young players ready to step into starting roles. Instead, they had slightly younger and less talented veterans to fill in.
So where do the Patriots go from here? From our point of view, here are five things the Patriots need to do this offseason to return to glory in 2010: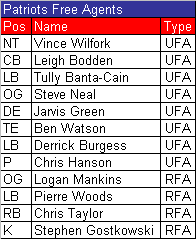 1. Re-sign Vince Wilfork
Just slapping Wilfork (in the face) with the franchise tag isn't good enough. He'll be disgruntled and potentially hold out for a significant amount of time. The Patriots can't afford to enter 2010 without a motivated Wilfork anchoring the defense at nose tackle. 2009 2nd-round pick Ron Brace was a non-factor in limited playing time this past season and isn't ready to take over for Wilfork. The only reasonable replacement for Wilfork out there is the Steelers Casey Hampton. He too is an unrestricted free agent but is expected to also receive the franchise tag.
2. Upgrade the pass-rush
Patriots outside linebackers managed just 10 sacks in 2009, with seven of them coming from UFA Tully Banta-Cain who isn't expected to be re-signed. The dominant Patriots defenses of the early-to-mid 2000s were anchored by elite pass-rushing linebackers such as Willie McGinest and Vrabel. Adalius Thomas was a huge disappointment this season and is expected to be a cap casualty. If Thomas and Banta-Cain depart, that could potentially leave Rob Ninkovich and Pierre Woods as the most accomplished outside linebackers on the roster. This could be a position addressed in the 1st round with a player such as Michigan's Brandon Graham.
3. Upgrade the secondary
Re-signing Leigh Bodden has to be a top priority. He isn't an elite cornerback, but he was easily the best the Patriots had in 2009 and there aren't many better options on the free agent market. Keeping him around could be key to their 2010 success. But it doesn't end there. The Patriots need to find an adequate free safety. Former Bears backup Brandon McGowan opened the season as the starter but eventually lost the job to James Sanders, who was only a marginal upgrade.
4. Find a starting running back
Running back by committee doesn't work in this league unless you have defined roles for each running back to match their skill set. The Patriots don't seem to know when the best time to use their running backs are, they just throw Kevin Faulk, Laurence Maroney and Fred Taylor out there in any order and hope for good things to happen. Due to the lack of options in free agency, this may be something that needs to be addressed in the 1st or 2nd round of the draft. A powerful downhill runner such as Jonathan Dwyer or Ryan Mathews would be the ideal choice.
5. Find a replacement for Richard Seymour
Jarvis Green was an above average backup, but he isn't starter material. Additionally, moving him into the starting lineup weakened their depth at the position. Upgrading the defensive end position will, in turn, improve the pass rushing capability of the linebackers.
About the author