Bill Parcells, listen up.
Chad Henne wants a receiver. But not just any receiver; he has some specific requests. When asked by the Palm Beach Post what he would like this offseason he responded:
"A big receiver. Somebody who's 6-3 and can run. I like our receivers, but we don't have a power guy, We do a lot of finesse stuff… I didn't say Braylon [Edwards] but somebody like him would be good."
Its a reasonable request, and an obvious need, but Henne shouldn't get his hopes up.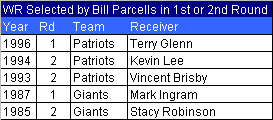 Parcells is highly unlikely to address this early in the draft. The Dolphins football czar hasn't selected a receiver in the 1st or 2nd round since taking Terry Glenn in the 1st round in 1996. And that pick was actually made by Robert Kraft and was a primary reason why Parcells packed up and head to New York the following offseason.
Dez Bryant wouldn certainly be tempting should he fall to No. 12, but the odds of Parcells pulling the trigger on that selection are extremely low. Even Arrelious Benn, Brandon LaFell or Demaryius Thomas in the 2nd round would probably satisfy Henne, but Parcells likely has other plans.
Instead of the draft the Dolphins may have to fill that need in free agency or via a trade. Brandon Marshall and Anquan Boldin are the most likely big name receivers to be traded and both would satisfy Henne's desire for a big receiver. But will the Dophins, who have other significant holes to fill, be willing to part with the draft picks necessary to land either?
Other restricted free agents included Braylon Edwards and Miles Austin, but it would be fairly surprising to see their current teams not match any reasonable offer to bring them back. And I certainly don't envision the Dolphins breaking the bank on either of them.
The top unrestricted free agents are Antonio Bryant and Terrell… well, there's no point in even bringing up that name, its never gonna happen.
Ultimately, it doesn't look good for Henne getting his wish. There are certainly some options out there, but it would require Parcells either breaking his vow never to select a receiver in the 1st round or breaking the bank on a big name receiver.
About the author