In his latest mock draft Cardinals beat writer Bob McManaman predicts Arizona will select Jermaine Gresham. His primary argument centers around the fact that "if Matt Leinart is going to have any immediate impact running this franchise, he is going to need a big target he can find quick."
Its certainly a valid argument, and Arizona is one of the likely landing spots for Gresham in the 1st round. [I currently have him headed to Cincinnati with the 21st selection]. One of the other points that McManaman brings up is that all league's top quarterbacks these days seem to be paired with an elite tight end – something the Cardinals are clearly lacking.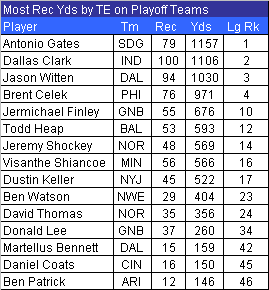 Taking McManaman's point a step further, I looked at each of this year's playoff teams and their use of the tight end. Interestingly enough, all but two playoff teams – the Bengals and Cardinals – had at least one tight end with 400+ receiving yards in 2009. The Bengals' Daniel Coats and the Cardinals Ben Patrick were the two outliers who came in 45th and 46th in the league, respectively, in receiving yards by tight ends.
Now I wouldn't look to this stat and immediately say the Cardinals must draft a tight end. For the past few year's they've been fine without one because Larry Fitzgerald and Anquan Boldin were each capable of filling the roll of a big, possession receiver for Kurt Warner. However, with Boldin likely out the door, potentially to be replaced by Steve Breaston and/or Early Doucet, it could create a noticeable hole in the Cards passing game.
Ultimately I think Boldin's status will be the determining factor as to whether or not Gresham is high on the Cardinals draft board. If Boldin is traded, it would be far easier to replace him with a tight end than by trying to find a receiver of his caliber in the draft. Traditionally tight ends make a much smoother transition to the NFL than receivers, thus making Gresham a smarter pick for a team that is looking to win now.
About the author