Coordinators don't often have a significant say on who their team drafts. But there are a select few that have the standing within their organization  to be heard on draft day. Colts offensive coordinator Tom Moore and Steelers defensive coordinator Dick LeBeau are two that come to mind.
While there are certainly those that believe Mike Martz's offensive genius is overrated, there is also little doubt that the Bears feel otherwise. He's been hired to revive Jay Cutler's career and, as a result, one would have to assume he'll have a strong say in the offensive personnel decisions. And when it comes to the draft, that may be bad news for the Bears.
Here's a look at Mike Martz's offensive skill position draft selections since becoming the Rams offensive coordinator in 1999, when he presumably was high enough on the food chain to have the ear of Dick Vermeil, one of Martz's most vocal supporters. Aside from the selections of Torry Holt, Steven Jackson and Calvin Johnson, the list reads like a who's who of "who's that?"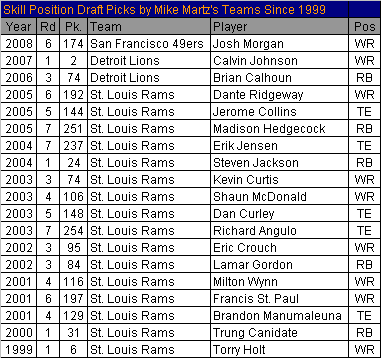 Martz certainly deserves credit for going 3 for 4 with the 1st-round picks. The Trung Canidate blunder is easily excused by the selection of Holt, Jackson and Johnson. However, the lack of contributors from the 2nd round and beyond is startling. His most productive non-1st-round pick has been Kevin Curtis, and that's not saying much.
I also included tight ends in this list of "skill position" players, to demonstrate a potential issue somewhat unrelated to the draft. Mike Martz prefers his tight ends to be an extension of the offensive line, which is bad news for Greg Olsen. Given the Bears current group of receivers, Martz would be foolish not to utilize his skill set, but his track record indicates that he won't. It will be interesting to see how the Bears handle this. Trading Olsen (they could probably get a 2nd-round pick in return) would be a wise move if Martz isn't interested in making him a focal point of the offense.
Ultimately the Bears may be just fine in the draft. GM Jerry Angelo still has the final say on all personnel decisions, and he has a strong track record in the draft. But I have to believe Angelo will lean towards siding with Martz on any decisions involving offensive skill positions. He brought in arguably the league's most high-profile offensive coordinator for a reason and his opinion will be valued. For the sake of Bears fans, however, we urge Angelo to handle the draft on his own.
About the author